Book Review: The Hate U Give
This fall's hit movie is based on an equally powerful young adult novel.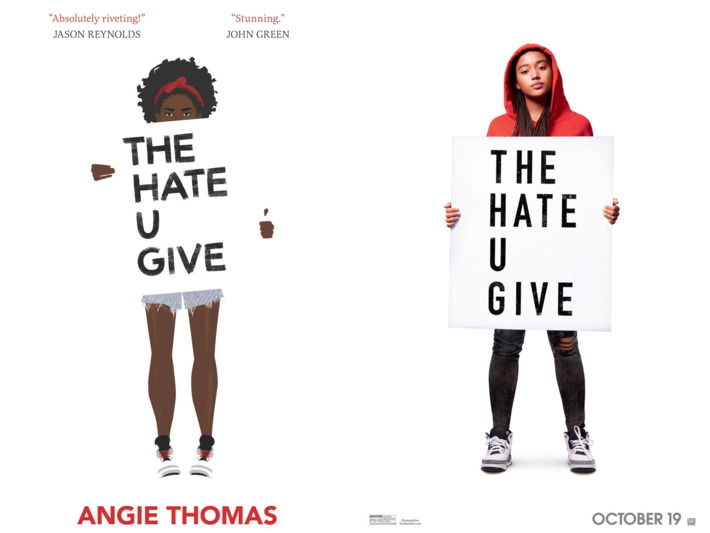 Have you heard about a movie called The Hate U Give? Were you aware that this was a book before it was a movie? The one that won a young adult fiction award, an Audie award for and finally a choice award for best debut Goodreads author?
Well, if you haven't, The Hate U Give is a young adult fiction novel written by Angie Thomas and published in 2017, about a girl named Starr Carter who lives two different lives in two different worlds. One in the primarily poor, urban neighborhood of Garden Heights and another at Williamson,  the very wealthy prep school she attended. Despite living in a rough neighborhood starr has a strong relationship with her family even after her father went to prison when she was eight and missed a big portion of her life.
The two very different worlds collide when she witnesses the fatal shooting of her close childhood friend, Khalil, at the hands of a white police officer. Starr being the only witness to the crime means that she is the only person who can defend Khalil reputation against the allegations of his drug dealing past. Starr realizes that she must also respect his memory.
Starr soon starts to feels the pressure from the people in her neighborhood, after they find out that she is the only witness to this supposedly racially-motivated hate crime. She struggles with deciding whether to join the rallies and protests, led by her attorney Ms.Ofrah of Just Us for Justice (an advocacy group similar to a real-life Black Lives Matter Protest) or to stay silent and "lay-low" at school and in her neighborhood. She finds it hard to stay silent about her feelings and her knowledge about what happened when she finds that one of her closest friends from school thinks that the officer's actions were justified using stereotypes to support her beliefs.
It is important to read this book considering today's state of society. Racism-based crimes are still happening and police brutality is a major issue across the United States.Thomas directly compares the killing of KhalilI to the police killings of Eric Garner, Michael Brown, and Alton Sterling. I would recommend this novel to anyone who likes to read books that revolve around real-life issues and heavy, controversial topics that many other books don't address.
In my opinion, The Hate U Give is an amazing book that I encourage every student attending Lee to read. The Hate U Give really opens up your mind to think about how things that are happening to Starr and her family in the novel are still going on in American society today.
From the racial differences in her friend group to the gangs and shootings happening in Garden Heights, The Hate U Give addresses many different problems that Starr faces in her day to day life that still affect African American society today