Lancers Boys Soccer: Dreams for the 2020 season destroyed by coronavirus
The formerly undefeated team lost the opportunity to pursue districts and regionals.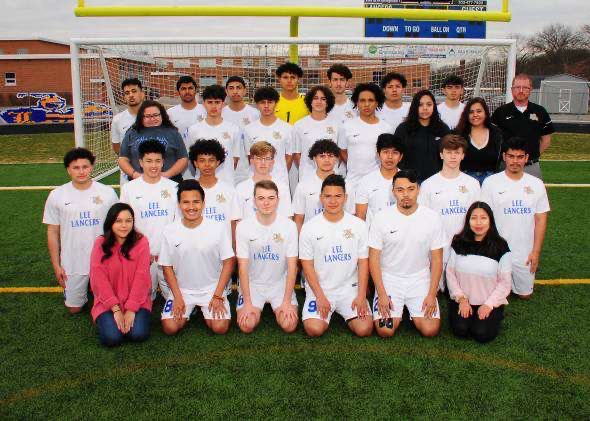 The Lee Boys Lancer soccer team had a spectacular 2019 season: an undefeated season. As the new season approached, Lee Lancers followed the motto, "new year, new opportunities, and new success," and prepared to do whatever it took to be in the best shape to fulfill their goals. The team hoped to have an even better season this year. 
But will they have the opportunity to show their worth? Unfortunately, the answer is no, all thanks to the season's cancellation due to the COVID-19 pandemic. 
Junior Cristian Cruz Saravia (forward), known as one of the Lancers' star prospects, believes that everything happens for a reason. Cruz Saravia acknowledged that although they were just getting to know each other as a team, all of his teammates worked hard for this upcoming season, and he expected to fight for regionals and win.
While the underclassmen players are devastated for the season's cancellation, they feel especially sorry for the seniors who won't be able to have the recognition and senior night they deserve.
Despite this, Cruz Saravia has a hopeful message to share. "At least we will be safe and healthy. That's all we can ask for," Cruz Saravia said.
Senior Dennis Banegas (midfield) and Senior Erick Rosales (defense) did not agree with the decision of suspending the season because they felt like the decision was made too early.  "Knowing that the second scrimmage we played was our last time playing for the Lancers breaks my heart," Banegas said.
Rosales believed the cancellation was especially unfair for seniors. "Us seniors won't be able to experience the senior night that some of us were dying for since 9th grade, and it was not fair," Rosales said.   
Ultimately Banegas believed FCPS made the appropriate decision to cancel because those who play soccer want to keep playing the sport instead of catching a virus, which would put them and their families in danger.
"The best option is to stay safe and keep doing your thing at home even if it is in silence," Banegas said.
So the Lancers continue to do workouts and train on their own to keep spirits high while not forgetting the promises they made.
The team is lead by captains Angel Torres, Caden Nelson, and Dennis Banegas and coached by John Millward. 
Torres (midfield) has overcome many struggles, specifically injuries from this season and last, on the field through perseverance and dedication.
"Out of all the years I have played on Lee Varsity soccer, I have never seen a team so connected. By connected, I mean that there was not a team I had seen before whom all wanted to achieve the same goal and knew their place, they were all treated equally," Torres said. 
Going into the season, Torres recognized that this year's team was not the same as last season's, but he accepted the challenge. Sadly, Torres broke his knee in three different places during Lee's first scrimmage. Torres hoped to come out stronger than ever and show his teammates and spectators that an injury would not stop him from accomplishing his goals.
Junior Kelvin Mendoza (defense), has played on varsity since he was a freshman. Mendoza's position on the team is right back, and he understands that ever since his injury last season he must work twice as hard. Mendoza hoped to accomplish even more, like winning a the districts title or even regionals. 
Sophomore Cesar Castro Argueta (center-midfield) was on his first-year playing for varsity. Castro Argueta wanted to improve his touch to have a better chance to attack the other team. He also wants to create an environment more welcoming to new players like him.
The boys' Lancers soccer team agreed that their soccer season was robbed, and they lacked the opportunity to prove themselves on the field. They all agree that they would have made history if not for the coronavirus. They couldn't predict their future or foresee a pandemic happening, but they can only hope for the best. The Lee Varsity Boys Soccer will never give up.