Why You Should Watch "Anne with an 'E'"
Netflix will premiere the final season of "Anne With a 'E'" this January.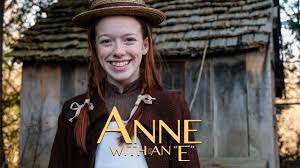 Since the publication of Lucy Maud Montgomery's Anne of Green Gables in 1908, millions of people all around the world have fallen in love with the expressive and imaginative freckled red-head, Anne Shirley. The book has sold more than 50 million copies in 36 different languages worldwide. The story has become an international cultural icon referenced in many other literary works and adapted into film, television, and theater countless times.
Anne of Green Gables tells the story of an 11-year-old orphan girl named Anne Shirley who was sent to live in the fictional town of Avonlea on Prince Edward Island, Canada with Matthew and Marilla Cuthbert, two siblings in their fifties and sixties who live together on their beautiful family farm named Green Gables. The Cuthberts had originally decided to adopt an orphan boy to help run the farm, but after a mistake was made in the game of telephone, they were instead met by a young girl by the name of Anne, who insists that her name be spelled with an "E".
Matthew instantly loves her quirkiness and wants to keep her but Marilla requires more convincing, knowing that her brother would still need the help that Anne cannot provide. They decide to keep her as a daughter and hire a French boy named Jerry to help Matthew with the farm work. Anne meets her neighbor Diana Barry and realizes that they are kindred spirits so they become "bosom friends." Anne also meets the handsome and witty Gilbert Blythe but tries to avoid him at all costs because Ruby Gillis has already claimed him.
Anne with an "E" is a darker and more modern take on the 1908 classic, Anne of Green Gables. The first season premiered on CBC Canada on March 19, 2017, and seasons 1 and 2 are available for streaming on Netflix. Season 3 has already aired on CBC in Canada but will not be released on Netflix until January 3, 2020.
Each version of Anne of Green Gables has brought something new to the table. I found the 1985 version of Anne of Green Gables most delightful but I loved the way that CBC and Netflix's Anne with an "E" gave viewers a more realistic version of the story, even if it did deviate from the source material. Rather than sugar coat what life as an orphan in the Edwardian era would have been it paints a vivid picture of the abuse that Anne had endured and the atrocities that she had witnessed as a child. L.M. Montgomery put Anne's abuse more delicately in the book, likely because corporal punishment was not uncommon during that time.
Some of the subject matter of the show can be quite dark but they are relevant even in this day and age. Anne with an "E" covers topics such as abuse, racism, prejudice, bullying, homosexuality, feminism and gender equality, and identity. These issues were either not addressed at all in the books or minimally acknowledged. The show writers introduced black, indigenous (Native Canadian), and LGBTQ+ characters who were not included in the original Anne of Green Gables, allowing diversity not only allows viewers to better relate to the characters of this very different time period but it allows them to travel back in time and see that people were not as homogenous as history books make it seem.
I loved Anne with an "E" not just because of the beautiful aesthetic but because it is relevant and because of the strong emotion it makes me feel. It's hard not to feel for all of Anne's pain and sorrow or her enthusiasm and happiness.