Looking Back: California Wildfires in Review
California witnessed the deadliest and most destructive wildfire in late 2018.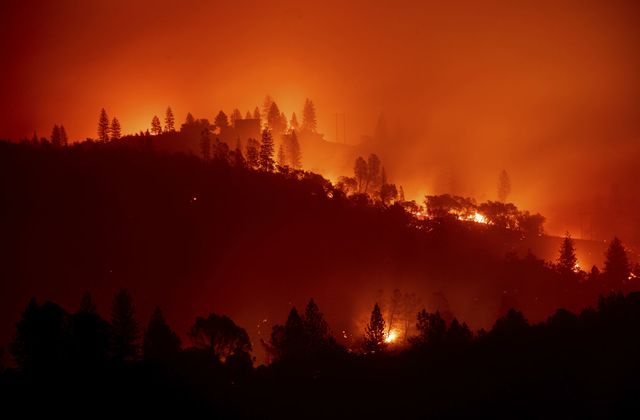 California has witnessed a devastating wildfire season, with many fires seen all around the state. These wildfires have caused the deaths of 98 civilians and firefighters throughout 2018.
This year alone, we saw the deadliest and most destructive wildfire in California history, the Camp Fire along with the Woolsey Fire, that caused mass evacuations in Los Angeles and burned all the way to Malibu.
The Camp Fire ravaged the Northern California town of Paradise to the ground, leaving little evidence that the town ever existed. People who lived in Paradise had only minutes to escape the flames. The Camp Fire alone killed 86 of the 98 total people who perished in the  many fires.
The cause of the Camp Fire is believed to be from the power company, Pacific Gas & Electric (PG&E). The lawsuit says that there was "unsafe electrical equipment," and it was a tragedy that "could have been avoided."
Although there is a lawsuit against PG&E, it is still unknown if they were the actual cause of the blaze.
The Woolsey Fire was burning in the Los Angeles area, it caused the mass evacuation of many areas in Los Angeles.
This fire affected many celebrities, including Kim Kardashian, who went hired private firefighters to prevent the fire from burning down her home. The fire also affected Miley Cyrus, whose house was completely burned to the ground.
The cause of the Woolsey fire is also believed to be from another power company, Southern California Edison. Their lawsuit says there was also "unsafe electrical equipment."
Both the Camp Fire and Woolsey Fire were burning simultaneously, so firefighters had a hard time trying to get both fires under control.
Wildfires may only be burning for a limited amount of time, but there are many lasting effects still to this day.
These wildfires had particularly bad smoke that travels to highly populated areas, including San Francisco. The inhaling of smoke can have enormous health impacts on people, but the elderly and children are more susceptible to harm.
The 2018 wildfires in California cost $400 billion in damages and the California fire department 1 billion, both setting new records.
When wildfires burn through forests, they kill all the vegetation, so nothing is holding the ground in place. After these terrible wildfires, California typically sees its rainy season.
Experts like to call this an "atmospheric river" where moisture keeps coming to California being heavy rain.
These heavy rain events can trigger flash flooding and mudslides. Mudslides can rush down hills and carry huge boulders that can destroy a community. California saw a terrible mudslide in Montecito last year that killed 21 people.
The firefighters that battle wildfires risk their lives every time they go to fight them. Firefighter Katherine Stanforth, friend of English student teacher Alexis Rosen, has helped fight wildfires in many different places.
Stanforth describes how dangerous it can be to fight a wildfire. "The biggest dangers in wildland firefighting are awareness-related. Even simple things like making sure your footing is stable as you're carrying your pack and water in mountainous areas can help prevent injuries. [Also] a shift in wind can change the entire scene of a fire quickly and cause it to change direction or potentially blow up and get larger," Stanforth explained.
Wildfires can affect firefighters too, with the physical workload and pressure to put the wildfire out, it can become stressful.
Stanforth explained how fighting wildfires affected her. "Physically, it was hard work over long days. Carrying our packs and tools was everyday work that felt much more grueling after a 4-mile hike in, digging fireline for hours, and a 4-mile hike out," Stanforth said.
Wildfires are becoming more frequent in California and are burning bigger than ever. California has seen one of the worst fire seasons in history, and the residents of California are only hoping for one to never be this bad ever again.