New Students Who Play Fall Sports
While most students are returning to their teams for another season, some students are joining the sports family.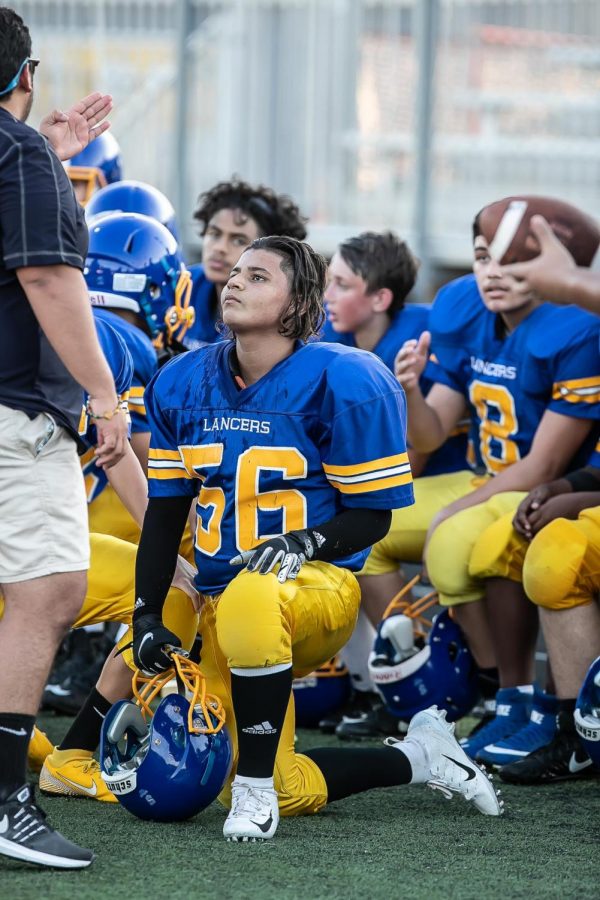 Lydia Dawit, Photography Editor
November 7, 2018
Senior Jonathon Gensel, who transferred to Lee from Bishop O'Connell High School, finds that there are many differences between Lee and his former private school.
"One big difference is the dress code. My old school has uniforms–we'd wear Sperrys, a pair of khakis, and the O'Connell polo. I liked the uniforms better because I didn't have to worry about what to wear and my morning routine was a lot shorter," Gensel said.
In his new and very different environment, Gensel brings much potential to the Lancers.
"I want to do good things for this team, contribute to a win. I really like the people here so I feel that motivation," Gensel said.
Junior Frederick Bearden, known as "Southside" to many, is from Augusta, Georgia where he was the only Caucasian student in his entire school. He never played football for a team but landed himself on the varsity team at Lee. He seemed to immediately notice the differences between his old school's team and Lee's.
"My team was better that Lee's because we won more, but that was because there was nothing else for us to do. Education didn't have much value in Augusta. Even if you were smart, there was no opportunity. If you wanted to make it, you played a sport and got good. There was no other way," Bearden said.
Bearden emphasizes that he is glad he came to Lee because now he has a better chance of being someone.
"I have been through a lot, and if it wasn't for my past, I would be who I am. A lot of people up here complain about things that don't matter. They're too soft. There's a real world out there, and it forces you to be tough. Even in football, I've seen a lot of guys fall right before they're about to take a hit in order to avoid it. Life doesn't work that way," Bearden said.
Some players from the freshman team expressed that there are many differences between playing for SYC and playing for Lee.
Freshman Semaj White says, " I had to work harder for the Lee team than for the SYC team. There's fund raisers and grade maintenance. You can see that the high school level is a lot harder and I feel like the coaches here really push you to be ready to play even at the college level."
Freshman Wendell Rice admits that it is much easier to be involved and successful on the Lee team.
"I built a relationship with my teammates before the season started so it was easier to communicate and to trust them. My cousin is on varsity and he helped me practice over the summer. We work harder at Lee because we have brothers to support and we know that they're there to support us." said Rice.
Freshman Caleb Mann hopes to inspire his other teammates to work hard to make the coaches proud of the team while at the same time, hoping to be an honorable role model to not only his fellow teammates but also the players that will be coming into Lee next year.
"People always say bad things about our team, but they have no idea how hard it is. It's really hard to impress our coaches even though most of us work really hard. Especially Cristian Ganahin. He is, hands down, the hardest working person on our team" said Mann.
Freshman Cristian Ganahin, who has never played organized football reflects that while he enjoys playing for Lee and hopes to be a strong point for the team, there are some challenges to playing for the team, but it motivates him to persevere.
"Some of our teammates aren't as hardworking as others and it's hard to work with them. It's hard to keep working hard when everyone isn't giving their hundred percent" said Crisitan, " but it just makes me want to play harder and maybe even take football to the next level and play at a D1 school."
So whether, freshman or senior, each and every one of our athletes plays a significant part in portraying the image of Lee. Make sure you support by coming out to our games!