Lewis Throwers Make Their Mark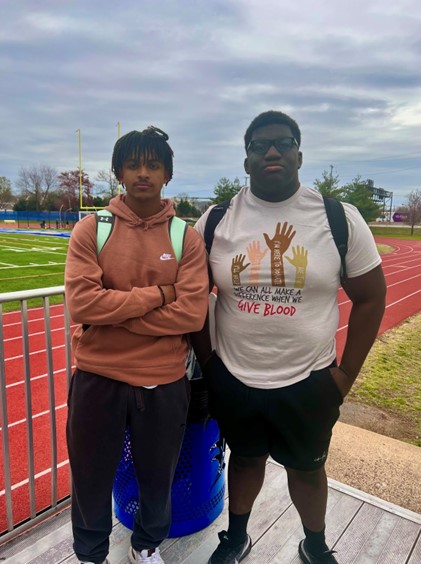 Student athletes play an important role in school life. At John Lewis High School, we have great athletes who inspire us while balancing their academic life with the routine of training and competing–whether it is on the grid iron, basketball or volleyball court, baseball or softball field, or during a track and field event. These athletes inspire school spirit; they can energize the student base and bring a sense of pride to the school community as they represent their school.  On the track and field team, throwers deserve special attention because they are often overlooked.  
This topic is of interest to me because I, too, am a thrower although not for John R. Lewis but for my track club Spartan Chosen.  I started my journey as a track and field athlete three years ago. Although I thought that I would be a sprinter, I quickly learned that I wasn't as fast as I thought I was. That's when I decided to learn how to throw the discus, shot put, and javelin.
I worked hard over the last three years learning the technical skills to throw and training to become a competitive thrower. I know what motivates me to prepare and step into competition, having won many medals and even becoming an All-American in discus at the 2020 Jr. Olympics, but I wanted to learn what motivates Lewis throwers.
Seniors Besu Desta and Dante Rucker-Agyei are two student athletes who are discus and shot put throwers for John R. Lewis track & field team. This is Desta's third season with the team–two spring seasons and one winter season. 
Desta joined the team as a sprinter. "My coach told me to try out throwing and do sprinting as well. I ended up doing throwing full-time and loved it," Desta said. 
As a student athlete there has to be a balance to ensure that our grades do not slip, but Desta has a plan that works for him. "I balance the student-athlete life by staying organized and structured, prioritizing my education over my sport, and making sure my grades are in check. That may mean making sacrifices such as not hanging out with friends as often and restricting myself from spending too much time behind a screen unless it's for school," Desta said.
For throwers, mastery of throwing technique is viewed as more important than just throwing for distance. Even though both Rucker-Agyei and Desta agree with this statement, there seems to be a little back and forth, in conversation, as to whether Rucker-Agyei actually follows that practice.  
My coach, Glenn Rogers, always tells us that technique will always win out over just trying to throw for distance.  Coach Rogers' advice pays off; his athletes excel in competition, often medaling in their events. 
Rucker-Agyei explained his philosophy concerning technique. "It is all about getting better at every practice and building on everything that you do so at the end of the season you can hit your personal best," Rucker-Agyei said. 
Rucker-Agyei's advice shows how athletes can become the best that they can be. (Note that he also benches over 300 lbs which definitely helps when throwing shot put. More power is needed in throwing a shot than throwing a discus.)
As throwers, we don't have the big crowds cheering us on like the runners.  We usually have a much smaller crowd in attendance who are only cheering for their person. Desta and Rucker-Agyei are encouraged by other teammates and their coaches. 
Desta mentioned that Rucker-Agyei also motivates him by slapping him on his back or even bribing him with money if he throws a certain distance but admitted that Rucker-Agyei never pays up. 
Desta strives to set a new personal best at each meet.  "That is what keeps me going, and it is satisfying," Desta said.
Both athletes have goals to throw at the college level which is why the train constantly in the weight room and to get stronger and fine tune their throwing technique. Rucker-Agyei plans to finish the season strong and walk on at Virginia Commonwealth University.
Their immediate goal this year is to qualify to compete in the state championship and eventually compete in a national tournament, which will go a long way in securing them a spot on an NCAA track and field team.  
Desta and Rucker-Agyei have been successful at their meets. During the Indoor Track Championship, early this season, Desta  and Rucker-Agyei both competed in shot and discus. Desta's distance was 40-04, and Dante's distance was 38-02. On March 15, at Mount Vernon, Desta competed in discus and his distance was 125-09. On March 21, at Lewis High School, Desta's distance for shot put was 35-07 and Rucker-Agyei distance was 38-04. 
These two have done an outstanding job throughout this season, and they are great assets to their team. Good luck to Desta, Rucker-Agyei, and all Lewis throwers as they work towards their goals of personal bests and competing at the college level!