When Cancer Comes Home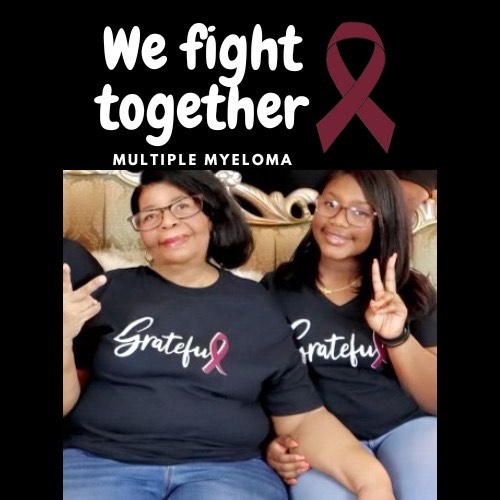 One of the most feared and despised illnesses that we always hear about is cancer.  A disease that comes in many forms, attacks every part of the human body, and kills millions of people every year. Cancer, when it is diagnosed in individuals, impacts, and changes the lives of everyone involved from the patient to family and friends.
We even have awareness months for cancer. Almost every month (except August and December) raises awareness to a particular type of cancer. For example, March is multiple myeloma awareness month and October is breast cancer awareness month.
Two years ago, my life changed when my grandmother, whom I lovingly call "Nana," was diagnosed with multiple myeloma. 
The Mayo Clinic defines multiple myeloma as a cancer that forms in white plasma blood cells. "Healthy plasma cells help you fight infections by making antibodies that recognize and attack germs.  In multiple myeloma, cancerous plasma cells accumulate in the bone marrow and crowd out healthy blood cells," the Mayo Clinic states. This causes complications like bone pain, loss of appetite, fatigue and weakness–all of which my Nana experiences on most days. 
When my parents first told me about my grandmother's diagnosis, it caused me great sadness and stress.  I am not a person who will cry in front of people, but I can tell you that it was one of the lowest days of my life and when I retreated to the privacy of my bedroom because I could not hold back my tears.  Reality set in quickly, and I knew that I had to accept the fact that my Nana had cancer. 
I not only was saddened by the news, but I was also angry and asked God, "Why her? She's my grandmother, she's a pastor!" And, "Why not one of my relatives that I don't like?" I know that wasn't a fair request because I really don't want anyone to have cancer whether it is family or not.  I also know that my Nana would not want to have someone else bear this burden.
The only way that I could find comfort was to pray to God to heal her as she went through this journey.  I also found that my relationship with my grandmother changed in the sense that we got much closer.  She started her cancer treatments which oftentimes left her sick and weak. 
I wanted to do everything that I could do to help encourage her and help her when she was too tired to do for herself.  Whether it was helping her dress, serving her meals or giving her medicine when she needed it.  This was something I did and continue to do with gladness.  We spend more time together talking and as I encourage her, she never fails to encourage me.  She is an incredible grandmother who always has a word of comfort for me and all her family and friends.
I learned early on that cancer impacts and changes the lives of the patient, family, and friends.  This is still a true statement, but I can testify that my faith and my Nana's faith has carried us through some dark days.  Faith also has been the driving force in the strength that my grandmother shows every day through this journey.  Even when she is weak I can still see her strength, when she can't get out of the bed I can see her strength, when she is weak, I see her strength.  Simply put, I am strengthened by Nana's strength.
If you are like me and have a family member who has been diagnosed with cancer, encourage them, strengthen them, let them know that they are loved and by all means draw closer to them so that they know that they don't walk alone.  When cancer comes home, fight back!