Kimberly Boateng named 2019-2020 Student Representative to the School Board
Boateng ran on a platform of discipline reform, equity, and implicit bias awareness.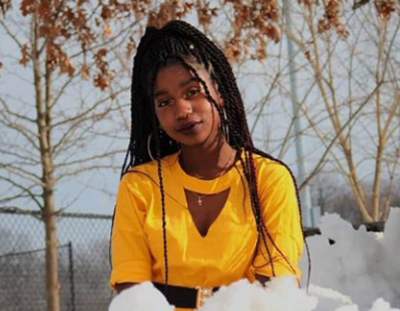 Hard work sure does pay off for Kimberly Boateng. The rising junior was recently selected as the student representative to the School Board for the 2019-2020 school year. She was voted by a committee of students representing all FCPS high. In the following interview, Boateng explains the competition for and responsibilities of the new position.
What are the responsibilities of being a representative?
I'm a nonvoting member, so essentially, I advocate for issues that are affecting the student body.
How did you find out that you could apply for this opportunity?
Mr. Trotman and Ms. Harrison actually sent me the application. I don't think I would've known about it if it wasn't for them.
What was the application process like?
The first part of the application process was the electronic kind. They asked us normal questions based on our platform–what qualifies us and all that jazz. Then we went to Edison one day, and we spent the whole day going through the election process. The first round was the showing of videos we took and then a big cycle of caucuses and talking. This round started with 32 applicants and ended with 12. The second round was the 12-person panel, and it went from 12 applicants to 3, and then it was down to a final panel.
What would you say makes you qualified to take on this position?
I could go on about the extra-curriculars I am involved in, but I think what qualifies me the most is that I'm a good speaker and that's what's important in this position. I have to have the ability to listen and speak for all 187,000 students in FCPS. (Jeez, a lot!)
What are some school-wide and county-wide issues to which you plan to bring awareness?
My platform includes discipline reform, equity, and implicit bias awareness. I plan to take the baton from the current rep Benjamin and continue pushing for more efforts involving mental health [awareness].
How do you hope your involvement as a rep would bring changes to student life in our county?
I hope that my involvement will encourage a sense of efficacy. What that means is that I want students to feel like: 1.) they have a voice, and 2.) their voices matter. It saddens me that so many kids don't like school and most of the roots of this dislike is that they feel like they have nowhere to express their anger or annoyances.
What are other activities you are a part of both in and out of school?
I am a part of marching band, National Honor Society, the Math Honor Society, and Music Honor Society. I am the current treasurer of the Technology Student Association. I manage track & field in the spring. I participated in class of 2021 lip sync competition. I'm a part of the Lee chapter of the NAACP.
This past spring I participated in the Edu-Futuro Emerging Leaders Program. I also was a Johns Hopkins University Center for Talented Youth Scholarship recipient. Two summers ago, I studied Foundations of Psychology at Lafayette college for three weeks. Last summer, I was at Roger Williams University studying Principles of Engineering for three weeks, and this summer, I'll be studying Global Politics at Princeton for three weeks.